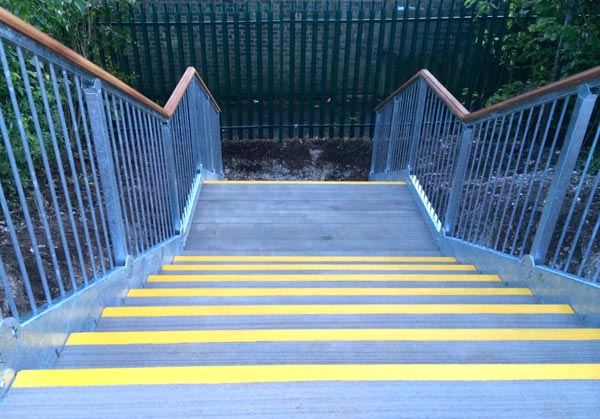 A fast permanent or temporary solution to Embankment steps offering the stability and longevity expected from a permanent structure in the shortest possible time frame. The concrete tread plates offer the ultimate anti - slip surface and strength required. The Balustrade design to both sides of all of our products, make them particularly safe for children. Platforms can be located where required and can be designed to suit individual requirements.

With a background in Civil Engineering our design team are used to constructing things that are built to last. The Averamp system is no exception. The concrete base plates offer exceptional strength and stability and are Brush finished - the equivalent anti-slip specification for a permanent floor. Manufactured in the UK all our materials are to British Standard assuring you of the very best quality.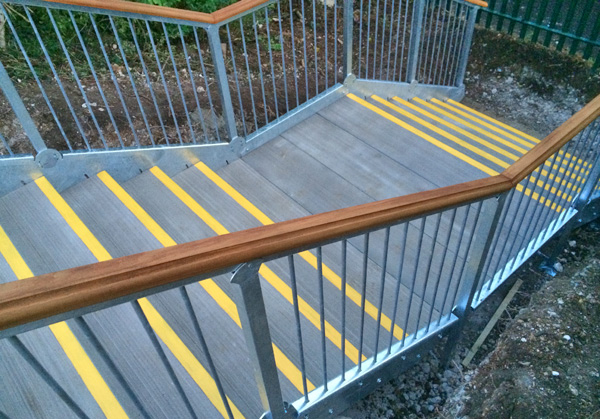 Standard size tread plates:
1.875 meters 1.5 meters and 1.125 meters with various configurations available.
Reinforced Concrete tread plates offering the ultimate anti - slip surface, strength and stability.
Part M Building regulations and DDA compliant. Chid safe Balustrades the system has been used in numerous school projects.
Galvanised as standard with Powder coating available as an option. Tread plates can also be coloured if required.
Call us today for a free quote or to ask any questions you may have, our staff are a friendly bunch and we would love to hear from you.